Every trip has a purpose. Every trip that purpose will change if you let it. #foreshadow
We started out 2017 saying that we wanted to go to Drumheller and go to the Royal Tyrrell Museum. The problem with driving that far and being so close to the Rockies is that, well, you just have to go a little farther. So our trip turned from a trip to Alberta to two weeks of fun and adventure. This also caused another issue, our sense of travel and adventure was reignited. Suddenly we had a rekindled desire to experience more.
Now I have to clarify. At this point we didn't have an RV, we were simply road tripping it and later I think we will need to discuss the pros and cons of road tripping vs RVing. But for now, I just want to say, when your 4-year-old is a crafter you are guaranteed to experience a whole new level of emergencies. Have you ever stopped at a Walmart with the sole goal of picking up scissors and tape so your little girl can turn her McDonalds Happy Meal box into a new creation? And yes she was expressing her needs very vocally and urgently. Now I have to laugh.
Onto the inflatables.
I don't like doing things that I don't have a plan for. That is not always true, but it is especially true about camping. It is not driven by OCD or compulsion, I believe it is more driven by a strong desire to avoid the frustration of different expectations. Generally, we all have different expectations and when you have five different plans on arrival you end up with a lot of…tension. lol.
It was in this mode of planning that we decided the first night we would stay in Kindersley SK. We also knew we would just have to do something in Saskatoon, so I started looking around for something completely new or different from what we have ever done and so I discovered Crickle Creek Fun Zone. The best part was that we never told the kids.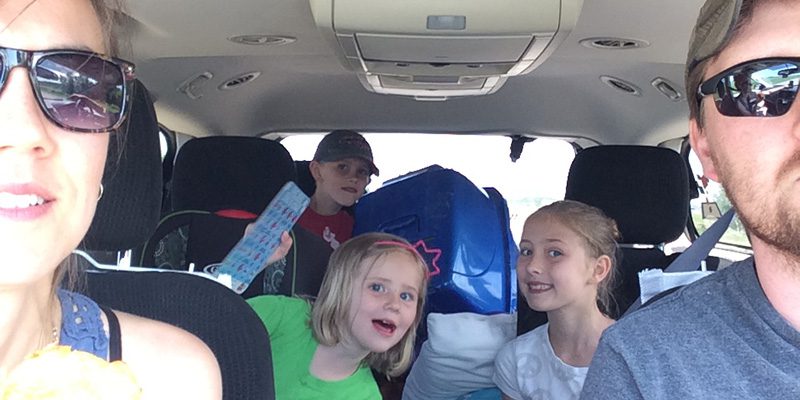 We had loaded up the night before and stayed overnight just into Saskatchewan at Carma's parents. The next morning with a van full of stuff, we began our trek across western Canada. The first stop was lunch at a rest stop. I love rest stops, they are such a great location for the adventurers out there. By that afternoon we had ventured on past Saskatoon and were casually driving along highway 762 just south of Saskatoon, SK.
There is a highly satisfactory moment when you can actually hear your children processing what is happening around them.
When they go from a sleepy, bored daze, to an extreme excitement and you have to grab them to keep them from jumping out the windows. That was this moment. It started with Carma asking, "What do you think that is" as she pointed towards the field of inflatables towering over the nearby trees. To which the reply came back, "I don't know"……"Wait a minute'….."Are those bouncy castles"…."Look those are bouncy castles"…"O my goodness those are huge"…"We have to stop here"..We are stopping here"."Please tell me we are stopping here".
We did stop there and that place is Crickle Creek.
We paid for the combo for the kids and were glad that we did. With both a dry and wet area they had a ton of fun. It was the perfect way to spend the afternoon after being in the vehicle for so long. Starting on the dry inflatables they were able to jump, climb and slide their way to contentment. Acacia was not pumped about some of the bigger ones, although she did go down the 50-foot water drop to which she declared she would never go on that one again :).
We did suffer from a little of an age gap as the two older ones could go on anything, however, Acacia was not interest or too small and spent most of her time running through the boot camp obstacle, which she loves, Crickle Creek owners please bring it back for this year.
This was definitely a highlight of the trip, so much that we are planning to go back there again this summer.
One note. Do not slide down the big slides after a rain shower. The kids went down one of the large ones just after it had rained. It was extremely slippery and they almost went over the guard. Thankfully all was well, but if you are in that situation don't do it, walk away, live to slide again another day!